ANYTHING GOES
A COMEDY RADIO SHOW by Filippo Spreafico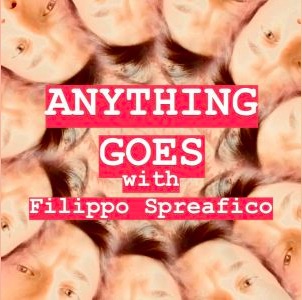 Listen live on THF RADIO every Sat 1pm Central European Time
EPISODE 20 - 12/9/2020
Despite the overcrowded atmosphere of THF Radio, Filippo Spreafico still manages to obtain information about the epistemological meaning of 'Italo Disco' from an octuagenarian passer-by. While religions are losing followers to Tinder filmmakers, some still propose confessional click-bait, surely unbeknownst to the art fair customers passing by. Empirical evidence shows that scientists don't know that standing with a mask is infintely more dangerous than sitting without a mask.
EPISODE 19 - 5/9/2020
This week's episode was broadcasted live but failed to be recorded due to the poor state of Filippo's laptop and a setup that was obsolete in the year 2004 (just a random year, really). Have fun not listening to this show!
EPISODE 18 - 29/8/2020
In this week's episode, Filippo Spreafico analyses the current sociopolitical climate change with a credit card, blaming herbivorous dinosaurs. Russian hackers are safeguarding the right not to have rights, meanwhile in San Francisco native Americans only like to be called like that in coffeeshops and in front of small monuments. Despite the effort of numerous advertising agencies to shift our attention to the printed press, cars have better chances to enter our homes and sharpen our knifes (excuse the pun). The show was broadcasted live from Rome, but if I hadn't told you, you would not have noticed.
EPISODE 17 - 22/8/2020
Leap year = 17 is not a mathematical formula but a cultural standpoint valid only in Italy. While exploring British culinary delicacies (such as sausages made out of real bits of leftovers from the metallurgic industry), we discover that eggs make better eggs than chickens do. A reckless comparison of the Western Roman Empire with West Indies spurs the non-existence of a post-environmentalist painting, as the current crisis is forcing subtitlers to look for employment as typewriters in the regime. Have I convinced you yet to listen to this episode? Or do I need to tell you that you can now buy your own bankruptcy through an app and that a famous artist pulled music out of his arse 500 years ago? I guess I don't.
EPISODE 16 - 15/8/2020
Unaware of the tribolations of time, Filippo Spreafico manages to unforcefully shrink one hour into 45 minutes. Newly discovered Republican raccoons are already facing extinction, while Pepin the Short celebrates Ferragosto, the holiday that confirms that the Roman Empire was built on vacations and spare time. Making sure not to body-shame the moon, we discover that 1 in 4 people might be turning into slot machines. Overall, a banger.
EPISODE 15 - 8/8/2020
What is an Italian living abroad if not a sublimation of Italianity? Are bees stuck in sweet pastry on purpose? Is exiled King Juan Carlos now a Prince? Why the capitalization and is the cameo of Alessandro La Spada a hint? Is the waiting of pleasure better than pleasure itself? Not with Filippo Spreafico, offering you his mind on a silver platter so that you can feel saner than what you actually are; overall, a pleasant experience.
EPISODE 14 - 1/8/2020
This week's episode boldly asserts that all sentences are weak. Filippo Spreafico challenges the space-time continuum of THF Radio and proposes that in the current environmental-cum-cultural crisis, bicycles should have a life of their own. You think this show is a niche, and you'll be right, because the world is a niche. Also, humanity might be a hindrance to humanity itself.
EPISODE 13 - 25/7/2020
Comedians in Berlin are starting to get loose again, so comedienne and storyteller Amelia Jane Hunter joins quicksilverish Filippo Spreafico, injecting a 'heroic' dose of her magnificence into the show. Also, socially distanced futures and hearts that are still broken meandering in the concupiscient world of Berlin's dungeons; and masks might help you shut your mouth about it.
EPISODE 12 - 18/7/2020
Straight from his own mind, Filippo Spreafico presents "Anything Goes", an audio pastiche made of talk, sketches and music dressed as a radio show that tries to stand the test of time. Time itself, an issue immemorial, is sublimated in the deepest recesses of the nervous system of a man who might as well be giving pearls to pigs; or, more simply, he has discovered a way to conceal his madness with a milder, more acceptable version of it. Recorded live at THF Radio.
EPISODE 11 - 11/7/2020
Comedian Filippo Spreafico, his sketches, his anachronistic music and his xaphoon. Korean cereals; Bastille; cold weather; lizards at LIDL and trappist monks.
EPISODE 10 - 4/7/2020
Entertainer and pseudointellectual Filippo Spreafico takes a train to Italy and travels through the pre-Alpine woods encountering tadpoles, mountain goats and reckless birds. The usual pastiche of music and voices ensues.
EPISODE 9 - 20/6/2020
Filippo Spreafico in his weekly show performed to one person and passers-by. Sketches, anachronistic music and tireless tirades; summer solstice; what virus?; people dressed as death; Beatles golden standard; Bill Gates holidays and late Italian trains. Plus, a special happy birthday.
EPISODE 8 - Cannot be found.
EPISODE 7 - 6/6/2020
Australian-Lebanese comedian Imaan Hadchiti joins Italian comedy renegade Filippo Spreafico in a telephone cultural exchange in between music and comedic soundscapes.
EPISODE 6 - 30/5/2020
Music and comedy sketches surround a full hour conversation between comedian Filippo Spreafico and astrologer Giorgia Pecora, debunking myths and preconceptions about astrology and its relevance in today's world.
EPISODE 5 - 23/5/2020
Music, sketches, trains of thought and sheeps from a northern italian town with Filippo Spreafico, who used to see people in venues for a living.
EPISODE 4 - 16/5/2020
Comedian Filippo Spreafico freewheels on current topics, introduces his comedy sketches and selects soulful/rock tunes.
EPISODE 3 - 9/5/2020
Comedian Filippo Spreafico freewheels on current topics, introduces his comedy sketches and selects soulful/rock tunes.
EPISODE 2 - 2/5/2020
Funnyman sensation Filippo Spreafico freewheels on news and dreams, accompanied by surreal comedy sketches and soulful tunes.
EPISODE 1 - 25/4/2020
Comedian Filippo Spreafico tests his own brain at a redio setting in which everything goes wrong. It is liberation day so we don't care as much as we should. The golden first episode of Anything Goes.
Previous Side Projects: