ANYTHING GOES
A COMEDY RADIO SHOW by Filippo Spreafico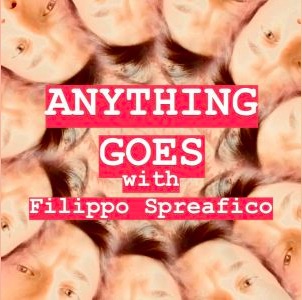 Listen live on THF RADIO every Sat 1pm Central European Time
EPISODE 37 - 16/1/2021
Alongside Filippo Spreafico, this week's episode features expert Paolo Tac, who recently survived a photoshoot with Ronald Reagan and Stevie Wonder; the latter came out best in the picture, because he is best observed when he is not observing, as quantum physics teaches us. In this episode, we confront the hot topic of the dictatorship of numbers, but not the transmigration of the soul. With the publication of Don Quixote, Miguel 'soy me' de Cervantes gave birth to the city of Madrid, from which all roads lead to Rome. Again and again, and we won't be able to stress this enough, the blame is on dinosaurs. This episode contains straws.
EPISODE 36 - 9/1/2021
The first Anything Goes of the year celebrates all good things from last year, namely Ciao2020, the Italian-spoken Russian TV show that formally annexes Italy to Russia and vice-versa. Host Filippo Spreafico is joined by Lena Stolby to analyse and promote Ciao2020, which the two see as the finest work of contemporary art of their lifetime. Plus, this episode contains suggestions for the purchase of your new passport, an overview of the life of Christmas trees in January, and the most difficult pottery class ever happened.
EPISODE 35 - 29/12/2020
In this special episode of Anything Goes, Filippo Spreafico is joined by his mother and grandmother to remind each other that they all are fictional characters playing themselves around a round table, yet some give birth to children. Grandma was born on a chair, while mom hopes that in the future more babies will be born at home, in the safety of known mortgages. When life runs through you, what else can you do than to accommodate it? This and many more questions will not be answered in this episode, which contains walnuts.
EPISODE 34 - 19/12/2020
The last episode of the year of Anything Goes includes a quick recap of 2020, a year that towards the end of this year will celebrate its first (and last) birthday: in this respect, 2020 is very similar, if not equal, to any other year. With Lena Stolby, we explore Russian literature, an innate defense mechanism against winter; with expert Paolo Tac, we uncover the life of Oliver Cromwell, the inventor of the English French Revolution; with Amelia Jane Hunter, we discover that the spirit of Christmas might as well hide in the pouch of kangaroos. Unknown until the late XVIII century, Santa Claus became wildly popular thanks to film producer and ante-litteram Jon Bon Jovi Charles Dickens, thus affirming himself as saint protector of poor children and sick sailors. Overall, a merry episode. This show contains a power outage.
EPISODE 33 - 12/12/2020
Episode 33 is about truth, and how to get rid of it. Expert Paolo Tac was voted most requested guest by a jury of unknown people: this is why he joins Filippo Spreafico for the episode revealing that Switzerland was also voted the best Vatican country to live in. Together, the two discover that delivery boys are paid 3€ per hour and need a shower, and that soon aperitivos might be exposed in Museums. They uncover the life of French writer Gustave Flaubert, who was the inventor of lingering and lingerie, in short: an old Tom Cruise. And indeed, Marconi was pivotal in the development of the letter 'S'. Dean Martin was the only singer able to sing and smoke during the recording of his first album as a child, and this is why Frank Sinatra is still today called 'the Voice'. Also, the two learn that Juana la Loca, the only papesse of Christianity, was very serious and diligent. Getting lost in counting how many trees get stuck in plastic bags every year, we now realize they probably are 33.
EPISODE 32 - 5/12/2020
In the episode of the radio show of the moment (Anything Goes, if you forgot), the thorny topic of the existence of the Roman senate is confronted with historical zealousness, concluding that ancient Rome probably wasn't a website. In the sport section, the longest throw of a rock in the Danube river is painstakingly analyzed. Many legal actions have been taken against the number 32 for canoodling between number 31 and 33. Also: an impromptu karaoke, and the declaration of Baron Von Fustenberg that "if you are hard you can be smart, but if are too hard, then nobody can say if you have been smart enough". True, wise, and ok words.
EPISODE 31 - 28/11/2020
In this episode of Anything Goes, host Filippo Spreafico is joined by the expert and 'all-ologist' Paolo Tac, also a descendant of a long chain of supply and demand. The two discuss the best things Paolo has forgotten, which include: Sting's stinginess and his fight with police abuse and the victory of Police; Marx and Engels' failed matrimony turned into the idea of constant revolution; William 'Napalm' Blake's best graves and dislexya; and the day when John Lennon posthumously adopted Paul McCartney as his stepson. While listeners are reminded that science is that thing that allows us to wear matching socks, the perfect recipe to this episode is: compassion. Overall, what an experience!
EPISODE 30 - 21/11/2020
Anything Goes is a radio show. Many a listener has enquired whether this work of unpaid love was a cheap way to get clickbait or halibut. Well it is not! All is done by hand here! Blood and sweat! This episode features Italian Zack, who has lost his memory in Brooklyn. Stranded in a two-stories pizza parlor in Bushwick, owned by three witches, he was cast a spell right after dessert, by which (excuse the pun) nobody would recognize how Italian he is. Filippo Spreafico cannot honestly remember inviting him, yet the two agree over some objective facts reported on Italian Zack's birth certificate. This episode requires an internet connection to be listened to online.
EPISODE 29 - 14/11/2020
This is the show for the shenanigans people and we all know it, so no need to write it. DISCLAIMER!!! THIS SHOW STARTS AND ENDS IN QUARANTINE, that legislated self-congratulatory space of withdrawal from the world that one can spend at home, in the car, on the bus, in the street, at a party with friends, but rigorously alone and indoors. In our history lesson, we discover that the Nile is a large body of water that escaped itself through a long stream but was blocked by a canal and a few corporations; needless to say, we have all tried to flee Africa, and some of us became gluten. This episode asserts that denial is a long umbilical cord connecting us all, while the audience is reminded that Herman Melville should not be confused with Jane Austen, albeit the opposite is allowed. This show has broken the Guinness world record of 1-hour shows lasting less that 1 hour, with 41 minutes! In this episode, somebody discovered the va. QUARANTINE ALL YOU WANT, QUARANTINE ALL NIGHT LONG BABY
EPISODE 28 - 07/11/2020
This episode can be delivered to you by standard mail in 15 days, right in time for the end of your quarantine. In history prior to the year 665, there were no surnames because everybody until then was called different names, up until Lars Von Trier was born and became my shoeshine. In the period when London was located in Oxford, in Constantinople a meteorite as large as a fist and as stiff as a knuckle fell off a cupboard and hit a 3D printer, starting the long and dark days of bidimensional paintings. No matter how many years of prison sentence you served for mass-producing LSD, you will never manage to explain who you are unless you carry the right music with you. This episode contains real bits of Google interns.
EPISODE 27 - 31/10/2020
Despite the enormous pressure to produce a Halloween Special, this episode reminds us that the deeper meaning of Christmas is the sale of trees. Ever since Martin Luther affixed the 95 thesis in favour of opening a freelancing business, octopuses begun to purchase the bycicles that are found in the depths of the oceans, therefore emancipating themselves. While sending letters to people who don't exist yet might help them to materialize, much irony is deployed to derise the last Roman emperor and also calling him names such as Augustus. This episode was recently included in the top #1 episodes of itself.
EPISODE 26 - 24/10/2020
This episode (number 26) was proposed as episode 1 or 2, but it would not have made numeral sense. A lot of listeners have been asking what happens when many Bermuda Triangles fly over an airplane, and finally this episode does not give a conclusive answer. Scientists and stenographers suggest that a tablespoon of number 26 rubbed on the chest right before going to sleep keeps odd numbers away; meanwhile, Luxemburg might become the first country to refuse the title of country, therefore causing complete indifference for the vast majority of the world population. In this episode, it is contended that flat-eathers feel this way because they have been looking at too many maps.
EPISODE 25 - 17/10/2020
Speaking from an unknown location in an apartment flat of via Flavia 87, 23900 Lecco (LC), Lombardy, Italy, Filippo Spreafico is joined by his mother, who mysteriously appears in her own apartment, where the young man is, out of the inexplicable and nostalgic act of visiting his family. Being the most beautiful country in the entire history of itself, Italy is measured in Scandinavian fjords in order to celebrate the pillaging of barbars who, through a long process of de-barbarification, brought democracy and the Erasmus student exchange program. We also learn the difference between a piano and a holographic system, which is microscopic to the untrained eye. This episode was prerecorded live with a delay of 25 milliseconds.
EPISODE 24 - 10/10/2020
This entire show is about the foundation of the city of Lyon, even if this is never mentioned. Grandfathers with social anxiety, comedians on a diet, predictable boring people failing at making surprises: this and much more in the first radio program transmitting directly from Vendémiaire, the first month in the French Republican calendar. Featuring Lena Stolby and Amelia Jane Hunter in the role of a mother of two who wants to be seen as looking for her missing children Milk and Money. Whether this is the last or the first episode of the season of Anything Goes in the magical THF station it does not really matter. We have dreamed and we have loved, then some of us listened to the show too.
EPISODE 23 - 03/10/2020
In this episode, we will not talk about machine learning, mostly because we can barely count until 23, a number that took scientists aback when discovered hiding between number 22 and 24. Comedienne Lena Stolby joins the live program at the radio, and this is why one can hear her speaking during the show. The "most meta" comedy sketch ever written is contained here, but it might have gotten out of hand and unfolded indefinitely beyond the limits of the show, escaping the laboratory and paralyzing the economy of our opponents. As Lena proposes that the production of weapons of mass destruction might be stopped by fighting "your mom", Filippo closes his eyes to understand what it feels like to do radio the way listeners hear it; it couldn't last long. This show contains staplers.
EPISODE 22 - 26/9/2020
For the ones who have a penchant for lizards or precious rocks: this episode isn't necessarily tailored for you! Celebrating an anniversary, not really sure which one, Filippo Spreafico unveils a bass drum beat that was never used by Ringo Starr. A usually unique love story between two people quickly escalates into a spy story in which the spier and the spied are caught in a vicious circle of spying, while the universe as we know it might just have become the universe as we don't know it. A few grammatical mistaeks don't tamper with an otherwise soul-oriented episode in an effort to remedy the consequences of the death of Pepin of Heristal, Duke of the Franks, on 16 December 714.
EPISODE 21 - 19/9/2020
Constricted by a time-space continuum slippage, Filippo Spreafico is forced to operate from the wrong USB stick containing ironic prayers to God for money in the form of Brazilian funk. Despite this week's laboring, we can only count 7 days in it (again!), somewhat confirming previous predictions. Cuckoos might be the next frontier of smart homes, and whilst new vaccines encouraging realism are being tested on positive thinkers and influencers, the effort remains the same: being able to swim in the normal prior to normality.
EPISODE 20 - 12/9/2020
Despite the overcrowded atmosphere of THF Radio, Filippo Spreafico still manages to obtain information about the epistemological meaning of 'Italo Disco' from an octuagenarian passer-by. While religions are losing followers to Tinder filmmakers, some still propose confessional click-bait, surely unbeknownst to the art fair customers passing by. Empirical evidence shows that scientists don't know that standing with a mask is infintely more dangerous than sitting without a mask.
EPISODE 19 - 5/9/2020
This week's episode was broadcasted live but failed to be recorded due to the poor state of Filippo's laptop and a setup that was obsolete in the year 2004 (just a random year, really). Have fun not listening to this show!
EPISODE 18 - 29/8/2020
In this week's episode, Filippo Spreafico analyses the current sociopolitical climate change with a credit card, blaming herbivorous dinosaurs. Russian hackers are safeguarding the right not to have rights, meanwhile in San Francisco native Americans only like to be called like that in coffeeshops and in front of small monuments. Despite the effort of numerous advertising agencies to shift our attention to the printed press, cars have better chances to enter our homes and sharpen our knifes (excuse the pun). The show was broadcasted live from Rome, but if I hadn't told you, you would not have noticed.
EPISODE 17 - 22/8/2020
Leap year = 17 is not a mathematical formula but a cultural standpoint valid only in Italy. While exploring British culinary delicacies (such as sausages made out of real bits of leftovers from the metallurgic industry), we discover that eggs make better eggs than chickens do. A reckless comparison of the Western Roman Empire with West Indies spurs the non-existence of a post-environmentalist painting, as the current crisis is forcing subtitlers to look for employment as typewriters in the regime. Have I convinced you yet to listen to this episode? Or do I need to tell you that you can now buy your own bankruptcy through an app and that a famous artist pulled music out of his arse 500 years ago? I guess I don't.
EPISODE 16 - 15/8/2020
Unaware of the tribolations of time, Filippo Spreafico manages to unforcefully shrink one hour into 45 minutes. Newly discovered Republican raccoons are already facing extinction, while Pepin the Short celebrates Ferragosto, the holiday that confirms that the Roman Empire was built on vacations and spare time. Making sure not to body-shame the moon, we discover that 1 in 4 people might be turning into slot machines. Overall, a banger.
EPISODE 15 - 8/8/2020
What is an Italian living abroad if not a sublimation of Italianity? Are bees stuck in sweet pastry on purpose? Is exiled King Juan Carlos now a Prince? Why the capitalization and is the cameo of Alessandro La Spada a hint? Is the waiting of pleasure better than pleasure itself? Not with Filippo Spreafico, offering you his mind on a silver platter so that you can feel saner than what you actually are; overall, a pleasant experience.
EPISODE 14 - 1/8/2020
This week's episode boldly asserts that all sentences are weak. Filippo Spreafico challenges the space-time continuum of THF Radio and proposes that in the current environmental-cum-cultural crisis, bicycles should have a life of their own. You think this show is a niche, and you'll be right, because the world is a niche. Also, humanity might be a hindrance to humanity itself.
EPISODE 13 - 25/7/2020
Comedians in Berlin are starting to get loose again, so comedienne and storyteller Amelia Jane Hunter joins quicksilverish Filippo Spreafico, injecting a 'heroic' dose of her magnificence into the show. Also, socially distanced futures and hearts that are still broken meandering in the concupiscient world of Berlin's dungeons; and masks might help you shut your mouth about it.
EPISODE 12 - 18/7/2020
Straight from his own mind, Filippo Spreafico presents "Anything Goes", an audio pastiche made of talk, sketches and music dressed as a radio show that tries to stand the test of time. Time itself, an issue immemorial, is sublimated in the deepest recesses of the nervous system of a man who might as well be giving pearls to pigs; or, more simply, he has discovered a way to conceal his madness with a milder, more acceptable version of it. Recorded live at THF Radio.
EPISODE 11 - 11/7/2020
Comedian Filippo Spreafico, his sketches, his anachronistic music and his xaphoon. Korean cereals; Bastille; cold weather; lizards at LIDL and trappist monks.
EPISODE 10 - 4/7/2020
Entertainer and pseudointellectual Filippo Spreafico takes a train to Italy and travels through the pre-Alpine woods encountering tadpoles, mountain goats and reckless birds. The usual pastiche of music and voices ensues.
EPISODE 9 - 20/6/2020
Filippo Spreafico in his weekly show performed to one person and passers-by. Sketches, anachronistic music and tireless tirades; summer solstice; what virus?; people dressed as death; Beatles golden standard; Bill Gates holidays and late Italian trains. Plus, a special happy birthday.
EPISODE 8 - Cannot be found.
EPISODE 7 - 6/6/2020
Australian-Lebanese comedian Imaan Hadchiti joins Italian comedy renegade Filippo Spreafico in a telephone cultural exchange in between music and comedic soundscapes.
EPISODE 6 - 30/5/2020
Music and comedy sketches surround a full hour conversation between comedian Filippo Spreafico and astrologer Giorgia Pecora, debunking myths and preconceptions about astrology and its relevance in today's world.
EPISODE 5 - 23/5/2020
Music, sketches, trains of thought and sheeps from a northern italian town with Filippo Spreafico, who used to see people in venues for a living.
EPISODE 4 - 16/5/2020
Comedian Filippo Spreafico freewheels on current topics, introduces his comedy sketches and selects soulful/rock tunes.
EPISODE 3 - 9/5/2020
Comedian Filippo Spreafico freewheels on current topics, introduces his comedy sketches and selects soulful/rock tunes.
EPISODE 2 - 2/5/2020
Funnyman sensation Filippo Spreafico freewheels on news and dreams, accompanied by surreal comedy sketches and soulful tunes.
EPISODE 1 - 25/4/2020
Comedian Filippo Spreafico tests his own brain at a redio setting in which everything goes wrong. It is liberation day so we don't care as much as we should. The golden first episode of Anything Goes.
Previous Side Projects: